In pioneer days, the country doctors of our county were able men with strong wills, more concerned about the welfare of others than their own well-being. Those who served our county were men who loved the mountains and its people. They were devoted individuals who chose to cast their lot here in this remote area and could not be lured to the more populated ones. Often they served tirelessly under great hardships with little thought of remuneration. During all kinds of weather and at any hour of the night, the country doctor would take by foot, horseback, buggy, or T-Model to heed the needs to his widely scattered patients. Many times it was necessary to stay all night until the patient was out of danger. He may have lacked credentials, modern drugs, and the latest equipment, but his willingness and perseverance were unequalled. The patient's family background and individual case history was in his memory indelibly imprinted by close relationships built on love and trust. We are indebted to the men and women of the medical profession of Graham County. Often the information available is vague and some by necessity omitted; however, this does not diminish our appreciation or lessen the value of the services rendered to our people.
---
DOCTORS IN GRAHAM COUNTY
Dr. Enos Hooper (1796-1872), first active doctor in Cheoah Township came from Monroe County, Tennessee, and settled in Snowbird section of Graham County. Hooper Bald was named for this wonderful pioneer doctor. Many of his descendents still reside in Graham County.
Dr. J. Aiken, son-in-law of General Smythe of Ohio, came here with the Smythe Family who purchased the Junaluska property and served as postmaster as well as doctor for Fort Montgomery in 1872.
Dr. Dewitt Ghormley came to Graham County about the year 1870 and later became a doctor. He practiced in Graham County until 1898. In that year he moved to Georgia. Dr. Ghormley is reported to have been instrumental in restoring peace in the counties of Cherokee and Graham following the Civil War.
Dr. DeVaugn was sent as a Catholic Missionary to the Cherokee Indians. His mother (a missionary-teacher) is buried in the Robbinsville Cemetery next to the Oold Mother Church.
Dr. Granville Davis (1856-1912) came from Maryville, Tennessee, and taught in the Tuskeegee settlement. He returned to Tennessee for medical training. He began his practice of medicine in Graham County in 1858. A panther once pursued Dr. Davis as he crossed the mountains from Tennessee into Graham County.
| | |
| --- | --- |
| Dr. Granville Davis | Dr. Swinfield Howell |
Dr. Swinfield Howell came to Graham County from Yancey County in 1901. He began the practice of medicine while living near what is now the Thunderbird boat dock, and later moved to what is now known as Howell Gap in the Yellow Creek Township. Later he moved to Robbinsville and opened an office. For several years he was doctor for the Kanawah Hardwood Lumber Company. He used a four-wheeled pedal cycle equipped with flanged wheels to run on the narrow gauge Snowbird Valley railroad. Dr. Howell, in addition to a large practice, was official doctor for the prison camp established at Harris Creek (a road building operation). Dr. Howell's wife, Margaret, often capably assisted Dr. Howell as a nurse.
Dr. McKaig, graduate of Johns Hopkins University, was sent to Robbinsville by the Presbyterian Home Mission Board to serve the Presbyterian School in Robbinsville, Dr. McKaig, moved to Andrews, North Carolina in 1911.
Dr. Eugene Rogers attended Medical School in Florida and came to Robbinsville about 1912 He practiced medicine in Graham County until 1917 when he returned to Florida. He was the father of Bobby Jack Rogers and Jean Rogers Smith.
Dr. Vincent Orr studied medicine in Atlanta at what is now Emory University. He was the youngest ever to graduate from medical school in Georgia at that time. He practiced in Robbinsville during the C.C. Camp construction. He moved to Andrews in 1934. He was the son of Dr. R. V. Orr who practiced here prior to going to Texas.
Dr. Speight was a graduate of a medical college in Florida. He practiced medicine in Robbinsville 1930-1936. He served as doctor for Bemis Lumber Company during his stay here.
Dr. J. H. Crawford came from Clay County, North Carolina in the 1930's to practice medicine in Graham County and stayed until his death. He represented Graham County in the General Assembly in 1939-45. He was State Senator from the 33rd district in 1953. Dr. Crawford built a hotel in Robbinsville in 1942 which contained not only hotel accommodations but also his office, a restaurant, and Citizen Bank and Trust Company. Dr. Crawford was known throughout Western North Carolina for his faithfulness and generosity.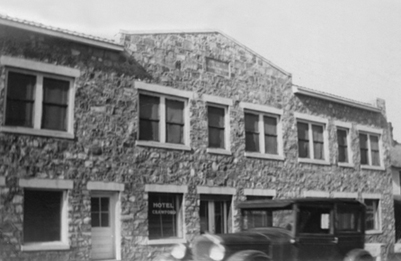 Crawford Hotel building built in 1942, located in the center of Robbinsville, across the street from the old Ingram Drug Store, contained hotel rooms, Dr. Crawford's medical office, a bank, and restaurant. It was later destroyed by fire.
Dr. George F. Brock (1848-1933) was born in Buncombe County, and moved to Graham County in 1887. He settled at the community that came to bear his name (Brock), now known as Sawyer's Creek. He served as county commissioner in 1924 and a representative of Graham County in 1929. Dr. Brock practiced medicine in Graham from the time he moved from Buncombe. He was remembered as riding a white horse about the countryside to attend his duties as physician. He was a familiar personality to all in Tuskeegee, Stecoah, and the many communities on the Little Tennessee River.
| | |
| --- | --- |
| Dr. George F. Brock | Dr. M. T. Maxwell |
Dr. M. T. Maxwell came to Robbinsville in 1890 and established a medical practice that continued until his health forced his retirement in 1940. He graduated at Southern Medical College of Atlanta, Georgia. He did postgraduate work at the Medical College of Virginia in 1895-96. He also received a diploma from the Chicago, Illinois, School of Psychology, March 15, 1900. He received a diploma, from the National College of Electo Therapeutics, September 29, 1906, at Lima, Ohio. Dr. Maxwell was tireless in his great service as a doctor to the people of Graham County.
Drs. Dick and Nettie Parrette: Dr. Nettie Parrette opened an office over the old drug store in 1938 while Dr. Dick finished out his contract with the Aluminum Company at Calderwood, Tennessee. In 1939 they moved to Andrews when Dr. Dick opened an office over the old bank. In 1940 they purchased their home from Mr. L. W. Wilson with Dr. Nettie practicing here and Dr. Dick keeping his office in Andrews. In 1942 he went into the Armed Forces returning to Robbinsville in 1946. In May 1947, they moved their offices into the Parrette Clinic. They both graduated first in their class from U.T. Medical School in Memphis, Tennessee. Dr. Dick graduated from Knoxville High School and took his premedical at U. T. at Knoxville. Dr. Nettie graduated from Oxford High in Oxford, Mississippi and took her pre-med at old Miss and U.T. at Knoxville. They had their internships and residencies in Knoxville. Dr. Dick at Knoxville General Hospital and Beverly Hills Sanatorium, Dr. Nettie at Fort Sanders Presbyterian Hospital.
Dr. James Edward Stephens was born in Flint, Michigan May 25th, 1930. He attended High School at Flint Central High. He served with the U.S. Navy during 1948-1952. In 1956 he earned his B.S. Degree in Physical Therapy from the Medical College of Virginia. He earned his M.D. Degree in 1960 from the Medical College of Virginia. He did his Internship at Memorial Mission Hospital, Asheville, N.C. in 1960-61. He came to Robbinsville in January 1962.
| | |
| --- | --- |
| Drs. Dick and Nettie Parrette | Dr. James Stephens |
Dr. Charles T. Almond received pre-dental education at Mars Hill College and his professional training at the Atlanta Dental College where he graduated in 1915. He opened a dental practice in Andrews in 1915, but did not open an office in Robbinsville until 1935. He continued in Robbinsville until his practice here was taken over by his son, Dr. Gerald S. Almond.
Dr. Gerald S. Almond received his basic education at Mars Hill College and professional training at Atlanta Southern College. He served as Lieutenant Commander in the U.S. Navy Dental Corps for four years during World War II. He began practice of dentistry in Robbinsville in 1940. He was the only dentist to practice in Robbinsville for many years.